Brrrr.
This was my first thought when stepping outside of the Minneapolis-St. Paul airport to hop into my brother-in-law's car in the middle of November. After that cold, rude awakening, however: only relaxation. Ramona and I were back to being midwesterners for a little while, which meant spending time with our families during the Thanksgiving holiday, swapping stories, and stuffing ourselves with holiday meals. Shopping for supplies was necessary during this time as well, as we transitioned to the next stop on our journey to…
Montreal, Canada!
It is accurate to say, that neither Montreal, nor any part of Canada was a glint in our eye as a potential destination during trip, or probably as part of any vacation for me, ever, in truth. Our original travel plan after Thanksgiving was to fly back to Costa Rica for around a month, before returning to the midwest for the Christmas and New Years holiday season. However, as planning began, increasing ticket prices for flights warded us off. Our next thought was to stay somewhere in the Caribbean; we tossed around Puerto Rico as a possible option. Mother Nature intervened though, bringing terrible tropical storms, knocking out power and leaving much of the island in shambles and its residents struggling to make ends meet. Meanwhile, plane ticket prices elsewhere were also increasing, as cold-weather folks headed for the beaches and islands en mass.
After expanding the search grid for our next city, Ramona had an "ah-ha" moment and mentioned Montreal. A large metropolis with quaint, historic buildings, cobblestone roads, an intriguing, urban city center, and a little taste of Europe and the Midwest in one area? Sign me up, I said! (note: there is no simple signup sheet for Montreal; one does have to book their own flights and accommodations).
Part of Ramona's "ah-ha" moment included the realization that Montreal and other parts of the Quebec province in particular are very "Frenchified" (technical term). Being a connoisseur of linguistics, and particularly knowledgeable of Romance languages, this seemed like an amazing opportunity to immerse herself in a French speaking culture for about a month. Immediately upon the two of us deciding to go to Montreal, Ramona dove head first into learning French, a language that had always intrigued her, but hadn't really felt practical or useful to jump into, until now. Our language-learning friend Duolingo as well as various other online French dictionaries and resources made it simple to jump into learning the language promptly, while the passion and excitement level was high. I would become highly acquainted with hearing various French pronunciations coming from her computer in our Manuel Antonio apartment in the weeks prior to heading back to the US.
---
Upon landing at Montréal–Trudeau airport and navigating a labyrinth of airport workers whose sole job seemed to be pointing their finger in the direction one should walk, we caught an Uber to our accommodations, an apartment at the confluence of the Old Montreal and Chinatown neighborhoods. This convenient location allowed us to easily walk down the vintage, cobblestone streets to take in the sights of old churches and structures, traverse along the St. Lawrence, or head downtown for some shopping or entertainment (like catching the latest Star Wars film on opening weekend).
Speaking of entertainment, one of our walks actually saw us stumble upon a Barbie exhibit (yes, that's right), which, seriously, was just about the best way to kill 15 minutes, and confuse your friends when you send them un-captioned photos of Elvis Barbie.
Though I'm not quite the passionate hockey fan I used to be, I was excited to research and note that my childhood team, the Detroit Red Wings, were taking on the Montreal Canadiens in a Saturday night game, after the teams played each other two nights prior in Detroit. Ramona and I purchased tickets, and I experienced my first live NHL game, with the locals slaughtering the visitors by a 10-1 scoreline. Despite my team getting pushed around, any hockey game with 11 goals is nothing if not action-packed. We were also on hand to witness rousing renditions of "O Canada" in both English and French (one of my favorite national anthems), and experience the passion of the Canadiens hockey fans, and a pretty good turnout of Red Wings supporters as well. And, thanks to the goal-hungry Canadiens, we were able to stave off of our hunger with 16 free wings, courtesy of the folks at La Cage sports bar and their 5 goals = 8 wings promotion. If you all need a marketer or wing taste tester, call me!
Walking through the streets in the evenings, it was clear that the locals of Montreal relish this time of year, and are fully enveloped in the holiday spirit. The Desjardins Complex (Complexe Desjardins), for example, provided frequent carols and holiday programs, as well as an epic interactive show, on the hour. Photos simply do not do it justice.
Wandering just outside the complex led us to Le Grande Marché de Noël, an exceptional winter market that runs for virtually the entire month of December, through Christmas. Artisanal gifts, seasonal treats, hot chocolate or wine, and this thing:
En route to the House of Jazz for a Saturday night out, the two of us wandered the "Montreal Underground City", a network of underground tunnels with shops and restaurants connecting several parts of the city, including the Bell Centre, and McGill University campus.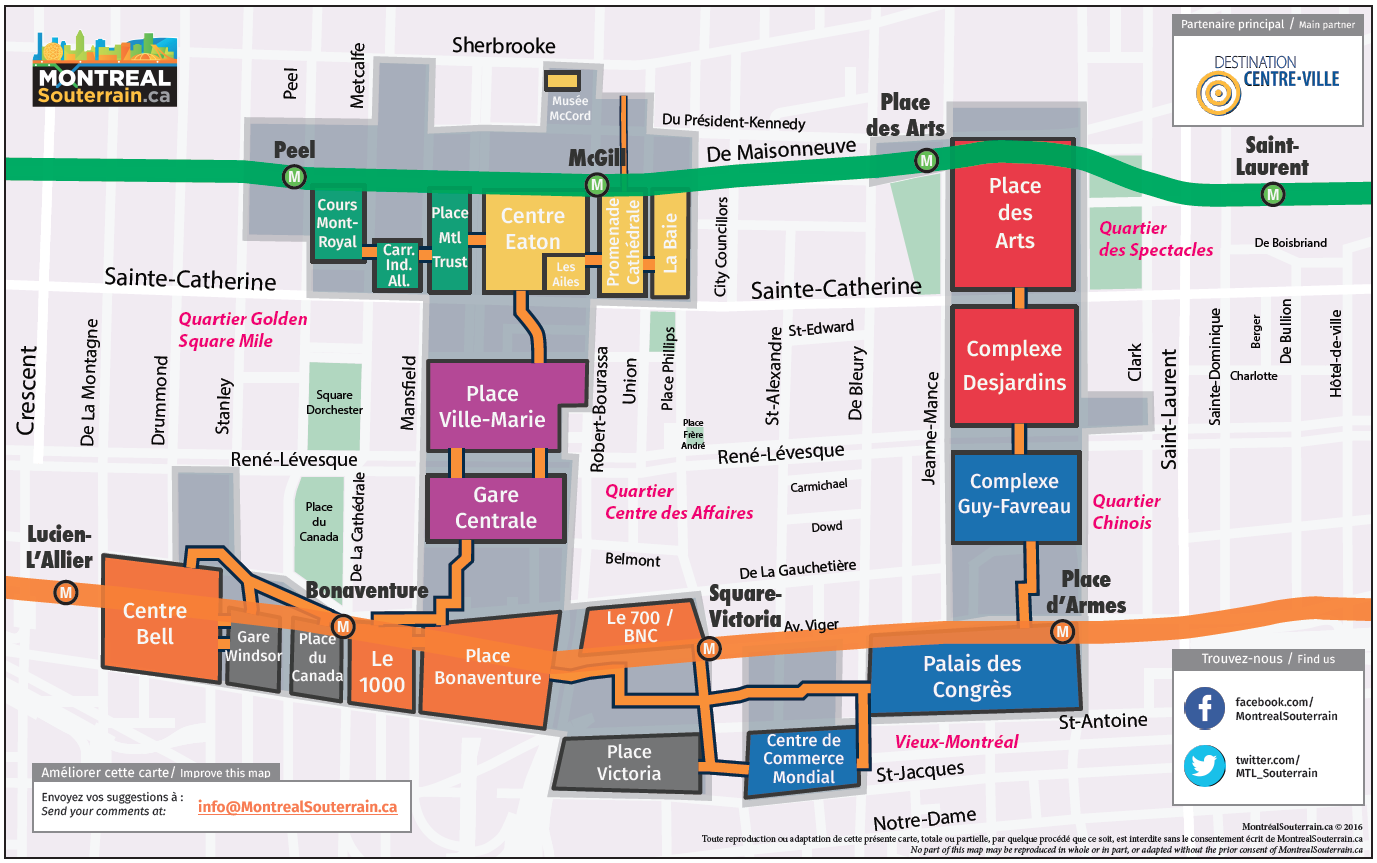 We determined that RÉSO (the official name) was an additional opportunity to explore the metro area, and that we could avoid some of the harsh winter storm that had arrived that week. Upon heading out we promised ourselves we would not get lost in the subterranean passage, despite numerous warnings from tourists of poor signage, and the possibility of getting disoriented in the maze. Suffice it to say, we were unsuccessful in navigating the maze in a reasonable time frame, and had to bail for the above ground streets (once we eventually found an exit) to get to the jazz show on time. Along the way, we passed through tunnels filled with garden variety mall stores and food court style restaurants, many of which were closed.
If you prefer a more detailed summary of this underground shopping center before entertaining the idea of checking it out, I highly recommend a quick read through the TripAdvisor reviews. You'll have a good laugh (or perhaps a cry) as visitors remark on losing their bearings, feeling like a rat in a maze with no cheese, or wondering why this was not actually the remains of an old underground civilization as they had thought. Le sigh.
---
The more days we spent exploring the city, the more exciting this was for Ramona as she ramped up on some of the intricacies of French, and was able to experience the simple joys of hearing and using the language throughout the city when checking out at the grocery store, buying a baguette and coffee for breakfast, or providing directions to tourists when asked (I supposed we must have looked the part of local Montrealer).
Certainly during our stay, we discovered that Montreal is fairly English friendly, with most locals rather amazingly fluent in both French and English. If I may be so bold as to suggest the highlight of Montreal for Ramona, it would probably be Luna Yoga, situated in an old brick building with original wooden floors, and wonderful Yoga classes taught in French, English, or both.
For myself, I was ready for a brief respite from the rice, beans, and fruit heavy diet of Costa Rica, and prepared to welcome in the rich cuisine the city had to offer. This included French pastries, fancy coffee, smoked meat, and of course, poutine. It is not a great exaggeration to say that I tried poutine at every restaurant we ate at. Late one night at a gastropub, I ordered a non-poutine-related dish, and was inadvertently brought a huge platter of poutine with pulled pork. This error I found perfectly cromulent, as did Ramona and I find the city of Montreal, a most unlikely destination (but not the most unlikely – stay tuned!) for this newly married couple that had set out in August to live in sweltering, Spanish-speaking Central America for the majority of the year.